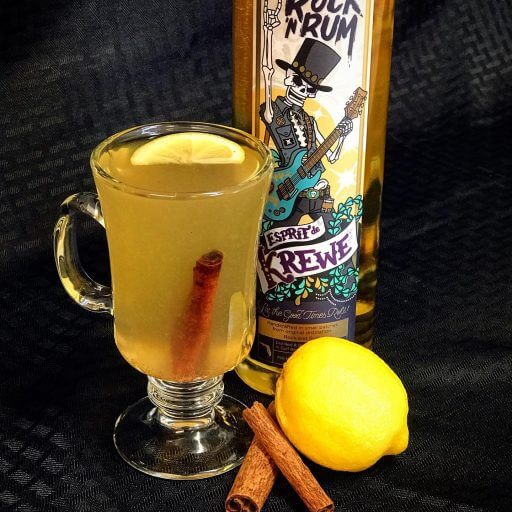 #Im2Hott4ThisToddy
Here on the Gulf Coast of Northwest Florida, we're known for our beautiful beaches and abundance of warm, sunny days. We do, however, get the occasional winter cold snap that leaves us chilled to the bone. On those kinds of nights, try the Rollins Distillery version of a rum hot toddy — we think you'll agree it's just what the doctor ordered.
See our article on Simple Syrup Recipes to learn how to make your own honey simple syrup!
1 1/2 oz. Esprit de Krewe Rock 'N Rum
1/2 oz. cinnamon whisky
3/4 oz. fresh-squeezed lemon juice
1/2 oz. honey simple syrup (2:1)
Hot water, just off the boil
Lemon wheel and freshly-grated nutmeg
Step 1

Build the Base

Add Esprit de Krewe Rock 'n Rum, cinnamon whisky, lemon juice, honey simple syrup and cinnamon stick to a warmed cocktail mug.

Step 2

Heat it Up

Top with hot water and stir to integrate all those warming flavors.

Step 3

Garnish and Enjoy

Top with a generous dusting of freshly grated nutmeg and half a lemon wheel. Sip slowly and think warm thoughts.
Notes:
The steeping cinnamon stick really adds to the enjoyment and overall appeal of this cocktail. Ground cinnamon just doesn't work the same way and gives the cocktail a gritty mouthfeel.
If you're using a larger mug, be sure to add a proportional amount of all ingredients to keep the balance of the cocktail.